Outside Supreme Court, health-care ruling ignites cauldron of emotion
(Read article summary)
Thursday's Supreme Court ruling brought out a full range of views on President Obama's signature health-care reform – not unlike the mixed state of public opinion on the law.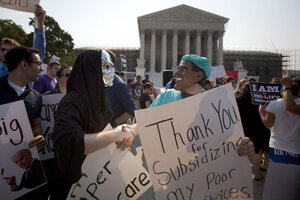 Evan Vucci/AP
Americans are deeply divided on President Obama's health-care plan – and so were the thousand-plus activists outside the Supreme Court who braved the 95-degree heat to be at the epicenter of Thursday's historic ruling.
Chants of "USA!" and Yes, we can!" mixed with jeers from a tightly packed crowd – some arriving hours ahead of the decision – when the Supreme Court announced its decision to uphold the 2010 health-care law.
The tide of opinion has been running against the Obama plan – the signature achievement of his first term. Only 28 percent of Americans said that they would be pleased if the Supreme Court ruled that the health-care law was constitutional, according to the latest NBC News/Wall Street Journal poll. Thirty-five percent of Americans said they would be disappointed by such a decision and another 37 percent had mixed feelings or were unsure.
That full range of views was represented outside the Supreme Court on Thursday.
"It was constitutional, and it was the right thing to do," says Lauren Weiner, deputy communications director for Americans United for Change.
For other supporters, the ruling was a mixed blessing. Molly Smith, who works with Planned Parenthood, says the health-care law did not go far enough but hoped the Supreme Court's decision could serve as a powerful stepping stone toward universal healthcare. "This is better than nothing, but I think we have a long way to go to make health care that's affordable for all people," Ms. Smith says.
---