Paul Ryan shirtless? We're more interested in his widow's peak.
(Read article summary)
That distinctive downward point in the hairline of Paul Ryan, Mitt Romney's running mate, may be a sign of bigger things to come. Research shows a widow's peak is a plus in politics. It certainly didn't hurt President Reagan.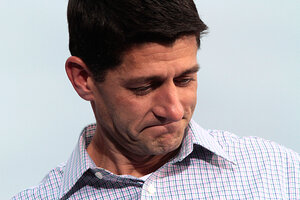 Mary Altaffer/AP
Since his unveiling Saturday as Mitt Romney's running mate, Rep. Paul Ryan has gone from being famous only inside the Beltway – and in his corner of Wisconsin – to being a national curiosity.
How else to explain the fact that the second most-searched term Saturday on Google related to Congressman Ryan, after "vice president," was "shirtless," as noted by Chris Cillizza of the Washington Post's "Fix" column. Indeed, aside from his focus on all things budgetary, the youthful Ryan is also known on Capitol Hill for his devotion to physical fitness. And despite the fact that he's married – happily, by all indications – that hasn't stopped the return of the "Hey Girl, It's Paul Ryan" meme on Tumblr.
---