White House idea with bipartisan appeal: Give Joe Biden a reality show
(Read article summary)
A petition on the White House website proposes giving Joe Biden his own reality show on C-SPAN. The vice president's 'cool' factor has never been higher.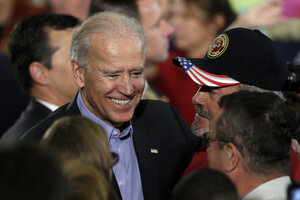 Matt Rourke/AP
From the website that gave us the idea of every state seceding from the Union in protest against President Obama's reelection comes a petition that the whole nation can get behind.
Last year, the White House website became the forum for Americans peeved by the prospect of four more years of Mr. Obama. Now, it is being marshaled for the altogether more glorious purpose of getting Vice President Joe Biden his own reality show on C-SPAN.
Mr. Biden, it seems, is having his "Hillary Clinton" moment.
For parts of the past four years, some pundits have suggested that Obama should have cast off his plain-talking, gaffe-prone vice president for Ms. Clinton, who has become the most popular member of the Obama administration in her four years as secretary of State. Clinton's sunglasses and Blackberry even launched a popular Internet meme.
But Biden is suddenly, overwhelmingly hip.
First, he rescues America from the fiscal cliff. Then he hits on senators' mothers during the Senate's mock swearing-in ceremony for the new Congress Thursday.
As vice president, Biden is president of the Senate, which gives him certain official duties, such as presiding over some ceremonies. Those duties did not include confessing to the mother of Sen. Deb Fischer (R) of Nebraska, "You've got beautiful eyes, mom." Or counseling a member of the family of Sen. Tim Scott (R) of South Carolina, "If you ever need any help on your pecs, let me know."
---