Ashley Judd mocked in GOP ad. Will it scare her off Kentucky Senate run?
(Read article summary)
Senate Republican leader Mitch McConnell is not popular in Kentucky, and a poll puts actress Ashley Judd, a Democrat, within range of defeating him in 2014. The ad is a preemptive strike.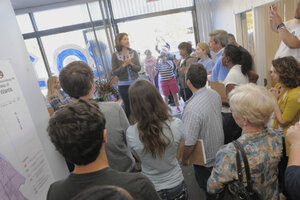 Robert A. Martin/The Free Lance-Star/AP/File
Did Ashley Judd think running for Senate in Kentucky would be a pleasant experience? If so, that's an illusion that's now probably been dispelled. Karl Rove's American Crossroads "super PAC" has just released a brutal ad that torches Ms. Judd, who's considering a Bluegrass State bid to unseat Senate minority leader Mitch McConnell. It'll be interesting to see if the spot helps scare her off – or if it lights her competitive fires and draws a response in kind.
The ad starts with a fake trailer listing production information. Its "client" is listed as "Ashley Judd, really?" The "title" is "Vote for me, you hillbillies." The "date" is posted as, "Whenever Obama tells her to run."
Then an image flashes on screen of flags, sun streaming through a country porch, and so forth, and the fun really starts. "You know what this country really needs? An independent voice ... for Obama," says the narrator.
An inset image of Judd voicing support for the president appears, over a caption that says, "Obama=brilliant."
Then the voice continues its mock-serious tone, calling Judd "a leader who knows how to follow," and "someone who will never forget where she came from."
---