Senator Webb criticizes Bush's long-term plan for Iraq
The freshman senator from Virginia spoke at a Monitor Breakfast about how an agreement will hinder the next president's ability to change course.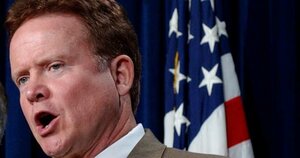 Lawrence Jackson/AP/File
Washington - One of the US Senate's harshest critics of the Iraq war, Jim Webb (D) of Virginia, is warning that the strategic agreement the Bush administration is negotiating with the Iraqi government will hamstring the next president's ability to change course on the war.
Senator Webb acknowledged the lack of Senate support for mandating that President Bush change course. The Virginia senator, whose squeaker 2006 election from a red state symbolized the electorate's disapproval of the war, says anything Congress can do about the war "is really around the edges."
Webb's discussion of the Iraq war with reporters at a Monitor breakfast Wednesday was one of many events in Washington marking the war's fifth anniversary. Mr. Bush spoke at the Pentagon to civilian and military employees about what he called the successes of a war he ordered to begin this day five years ago.
At the same time, antiwar protesters rallied outside government buildings and marched in black clothing and skull masks – to represent the nearly 4,000 US soldiers who have died in the conflict.
Webb highlighted the negotiations under way between the United States and the government of Iraqi Prime Minister Nouri al-Maliki.
---