For Pelosi, a few regrets, but some achievements, too
The speaker of the House prepared Democrats for the prospect of electoral victories at a Monitor Breakfast Tuesday.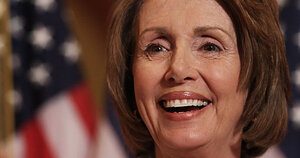 Lauren Victoria Burke/AP
Nancy Pelosi didn't achieve all she wanted in her first term as speaker of the House - most notably, the end to a five-year war in Iraq. But she is already looking forward to the prospect of bigger Democratic majorities on Capitol Hill and a Democrat in the White House.
"I've begun ... telling my colleagues: Be prepared for what happens, because your day will be different. The expectations will be high and results must happen," she said at a Monitor-sponsored breakfast with reporters Tuesday. "You will be called upon to do so many different things than you are when you don't have a president in the White House."
But for now, the veto power of a Republican president and the vote calculus on Capitol Hill forced many compromises that the speaker says she would rather not have made.
The most recent example is a controversial intelligence surveillance bill. In a surprise move, Ms. Pelosi all but encouraged Senate Democrats to filibuster an intelligence surveillance bill that she voted for just last week.
In the end, she said, she voted for the bill - but did not call on other Democrats to do so - because "we have to collect intelligence in order to protect the American people." Unlike a Senate version of the bill, the House bill made it clear that future presidents must respect this law as the exclusive basis for intelligence-gathering.
But she noted many Americans' strong objections to retroactive immunity for telecommunications companies that cooperated in the Bush administration's secret surveillance program after the 9/11 attacks.
---