New poll shows risks to opponents of Obama's economic stimulus plan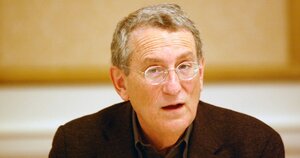 Robert Frazier/The Christian Science Monitor
When economic stimulus legislation supported by President Obama moves to the Senate next week, opponents of the plan face political risks, according to new polling data.
At a Friday breakfast with reporters hosted by the Monitor, Democratic pollster Stanley Greenberg released poll results showing :
• Among all voters nationally, 62 percent favor Obama's economic recovery plan while 28 percent oppose it.
• Obama's economic plan is popular in the 13 states that are expected to have competitive races for US Senate seats in 2010. Voters in those states favor the plan by 64 to 26 percent.
• There is strong support for the plan among voters in the 40 Congressional districts where Democrats are expected to have the toughest time holding seats in 2010. In those Republican leaning battleground districts, voters favor the plan by a margin of 64 to 27.
When the American Recovery and Reinvestment Act came to a vote in the House on Wednesday, not a single Republican supported it. "I think the message of having zero Republicans voting for the plan was an immense error," Greenberg said. "I think it will be seared in peoples' consciousness." At another point, he called it a "defining vote."
Support for Obama's economic policies occurs in the context of strong overall approval ratings for the new president. In the 40 Congressional districts Democrats expect to have the toughest time holding in 2010, some 70 percent of voters say they support Obama's policies and goals versus 22 percent who oppose them. Greenberg called the level of support "intense."
---
Follow Stories Like This
Get the Monitor stories you care about delivered to your inbox.