Ron Kirk rejects any 'timeout' on new NAFTA-like free trade pacts
Ron Kirk, US trade representative, wants lawmakers to push ahead on new free trade pacts. Some Democrats advocate a timeout to assess the effects of existing accords such as NAFTA.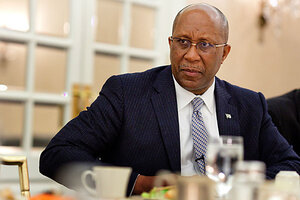 Michael Bonfigli / The Christian Science Monitor
The Obama administration is pouring cold water on a suggestion from some congressional Democrats for a "timeout" from new free trade agreements until the existing accords – including NAFTA, the poster child for free-trade pacts – can be fully assessed.
US trade representative Ron Kirk says he will press hard to persuade trade-wary Democrats and Republicans of the merits of President Obama's trade policy agenda for 2010. The agenda includes completion of the Doha Round of global trade liberalization and passage of pending US free-trade agreements (FTAs).
The US has negotiated FTAs with Colombia, Panama, and South Korea – all of which are awaiting congressional ratification.
Ambassador Kirk, speaking at a Monitor lunch with reporters Wednesday, said the administration will work to address concerns about the impact of new trade pacts, but he was categoric in his opposition to any measures to slap an indefinite hold on the trade accords already gathering dust. (For an analysis of the rising wariness about free-trade pacts, click here.)
"I've been very honest that we have to find a way to do these [ratify new pacts and assess the impact of existing ones] simultaneously and not take a timeout from trade," Kirk said.
A 'thorough review' sought
---