Q&A with HUD Secretary Shaun Donovan
The Housing and Urban Development Secretary answered questions at a May 18 Monitor Breakfast about his plan to reallocate up to $1 billion in additional funds to stabilize those neighborhoods that were the hardest hit by the foreclosure crisis.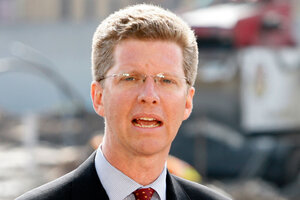 Ed Andrieski/AP
Housing and Urban Development Secretary Shaun Donovan heads a department whose mission is to create strong, sustainable, inclusive communities and affordable homes for all. He was a guest speaker at the May 18 Monitor breakfast in Washington, D.C.
On his plan to reallocate up to $1 billion in Neighborhood Stabilization Program funds:
"We do have concentrated damage from the foreclosures in certain communities. So we will be reallocating that funding to places that have been hardest hit.... We are also announcing support for additional funding for neighborhood stabilization and we will be working with Congress to [get it]."
On where HUD will focus the funds to demolish or rehabilitate abandoned buildings and help homebuyers with down payments and closing costs:
"The biggest benefit will be in places like Nevada, California, Arizona, Florida, that have been the very hardest hit by this crisis."
On tailoring housing programs to local needs:
"Neighborhood stabilization has been a flexible tool for communities.... This is not the sort of old urban renewal, one size fits all approach. This is a fundamentally different kind of approach that really tries to work with local communities to achieve their vision of what neighborhoods should be."
---
Follow Stories Like This
Get the Monitor stories you care about delivered to your inbox.