Q&A with Sen. John Cornyn
The GOP Senate campaign chief answered questions at an April 29 Monitor Breakfast in Washington about upcoming 2010 Senate races.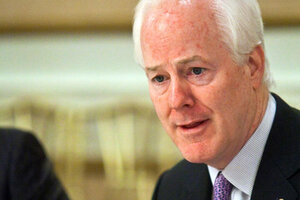 Michael Bonfigli/Special to The Christian Science Monitor/File
GOP Senate campaign chief Sen. John Cornyn of Texas was the guest at the April 29 Monitor breakfast in Washington. Senator Cornyn served on the Texas Supreme Court, then as state attorney general. He won his Senate seat in 2002, and was elected chairman of the National Republican Senatorial Committee in 2008.
On the outlook for Republicans in the 2010 Senate races:
"We are going to pick up as many seats as we possibly can.... In every seat being vacated by a retiring Republican we are currently ahead. And in 8 out of 10 Democratically held seats, our candidates lead the probable Democratic nominee.... When I took this job ... we had the wind at our face, a strong head wind, and now I feel like we have the wind at our back."
On Florida Gov. Charlie Crist's exit from the GOP to run for the Senate as an independent:
"His future electoral prospects are irreparably damaged by his deciding now to run as an independent."
On Governor Crist's sagging political fortunes despite an early endorsement from Cornyn:
"In this political environment, it is not necessarily helpful for candidates running in the states to have the national party chairman endorse them.... More than any time I have seen in the recent past, instead of a Contract for America, voters want a contract from America. They want to be listened to, not lectured to, and not to have their choices made for them."
On Sarah Palin's role in the 2010 Senate campaigns:
---
Follow Stories Like This
Get the Monitor stories you care about delivered to your inbox.