Q&A with DNC Chairman Tim Kaine
Democratic National Committee chairman Tim Kaine discussed the DNC's strategy for the 2010 election at an April 28 Monitor Lunch.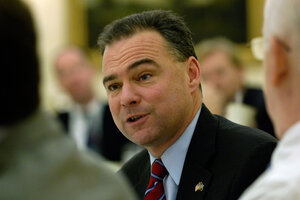 Andy Nelson/The Christian Science Monitor
Tim Kaine served both as Virginia's lieutenant governor and governor before being elected to head the Democratic National Committee in January 2009. He was the guest at a Monitor lunch in Washington on April 28.
On Democrats' positioning for the 2010 elections:
"Democrats under President Obama's leadership have been a results party and that is what Americans want…. The Republicans, on the other hand, have been a party of obstruction…. We think Americans will reward results rather than obstruction. And we think we have a capacity to do much better in these midterms than a lot of people think."
On the risks of running as a 'results party' when many voters disapprove of President Obama's performance in some areas:
"There is never a risk to be running on results."
On the midterm election climate:
"Since Teddy Roosevelt, the average president in the first midterm election loses 28 House seats and four Senate seats, and governors races as well. That's the norm. And so I tell Democrats everywhere I go that ... if that is the average, since we are not living in average times we have to assume that head wind is even a bit stiffer."
On Democratic National Committee fundraising:
"Fundraising has been strong. And I want to point out ... [that] fundraising has been strong despite the fact that for the first time the DNC does not take money from [political action committees] or from federally registered lobbyists. That was a significant portion of our budget before I became chair. We are completely funded off individual contributions now, and yet we have been successful enough to be able to put unprecedented resources onto the field."
---