Q&A with Rep. Van Hollen
Democratic Congressional Campaign Committee Chairman Chris Van Hollen discussed House Democrats' strategy for the 2010 election at a May 24 Monitor Breakfast.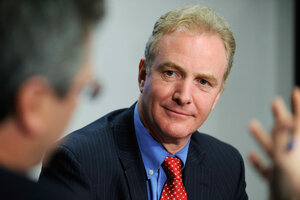 Jonathan Ernst/Reuters
Democratic campaign chief Rep. Chris Van Hollen chairs the Democratic Congressional Campaign Committee, which supports Democratic candidates for House seats. Representative Van Hollen, of Maryland, is in his second term leading the DCCC. He was a guest speaker at the May 24 Monitor breakfast in Washington.
On the biggest challenge Democrats face in the 2010 elections:
"The biggest challenge remains perceptions of the economy. This election from Day 1 has been about the economy.... And things have been improving.... There is still a large majority of people who are unsure and uncertain about the direction of the economy.... We all know we are not out of the woods yet, especially when it comes to jobs."
On polls showing Republican voters are more energized than Democratic voters:
"There is no doubt this is a big challenge for the Democrats going into the next cycle. Right now you have on the Republican side a lot of people who are running out the door to vote, especially on the 'tea party' wing of the Republican Party."
On independent voters' reaction to the tea party movement:
"To the extent the tea party movement is most represented publicly by the farthest right-wing component of the tea party movement, that does have the effect of making the centrist voters more nervous."
---