Why Paul Ryan will vote 'no' on deficit commission report
Rep. Paul Ryan (R) of Wisconsin praised Obama's debt commission report at a Monitor Breakfast Thursday, but said he wouldn't vote for it because it fattened health care.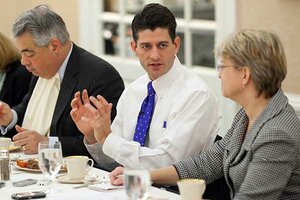 Michael Bonfigli/Special to The Christian Science Monitor
Rep. Paul Ryan (R) of Wisconsin said Thursday that he plans to vote "no" on the president's debt commission report on Friday.
Congressman Ryan, one of 12 members of Congress on the 18-member bipartisan debt commission, had telegraphed a no vote on Wednesday, but stated straight-up at a Monitor breakfast for reporters Thursday that that is his decision.
"Obviously, I'm not going to vote for it," said Congressman Ryan, who is an important voice on the commission as incoming chairman of the House Budget Committee come January.
Ryan's biggest problem with the debt commission report, he said, was that "it not only didn't address the elephant in the room, health care, it made it fatter."
Still, he called the commission a "success," because the two co-chairs, former Sen. Alan Simpson (R) of Wyoming and former Clinton White House chief of staff Erskine Bowles (D), put a plan on the table. (Simpson and Bowles were guests at a Monitor Breakfast last month.)
---