Is Libya an 'arms bazaar' for terrorists?
Counterterrorism chief John Brennan says it is now much harder for Al Qaeda to carry out an attack in the US. But he's keeping an eye on Libya's weapons stockpiles.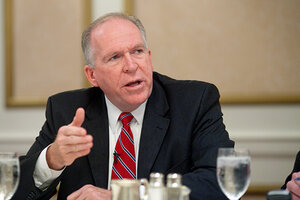 Michael Bonfigli/The Christian Science Monitor
Al Qaeda may be down but it is not out, according to President Obama's chief counterterrorism adviser, and keeping Libya's exposed cache of weapons out of the terrorist organization's hands is just the latest focus of the nation's counterterror effort.
"We have indications that individuals of various stripes are looking to Libya and seeing it as an arms bazaar," said John Brennan, assistant to the president for homeland security and counterterrorism, at a Monitor breakfast Thursday. "We are concerned about the potential for certain weapons to get into the hands of terrorists."
The White House counterterrorism chief's attention to Libya and the potential vulnerability of its chemical and biological weapons comes amid reports that the fugitive Libyan leader, Col. Muammar Qaddafi, may be planning a last stand from his remaining strongholds, where he could deploy deadly gases against rebel forces.
Colonel Qaddafi is known to have accumulated a large stockpile of mustard gas, and recently seized documents suggest that the regime in its final hours last month shipped large numbers of gas masks and chemical-protection suits to Qaddafi's bases of support.
---