'Fast and Furious' chief investigator: not ready to call for Eric Holder resignation (VIDEO)
Rep. Darrell Issa, who is investigating the 'Fast and Furious' gun-walking operation, says the problems of the failed operation go beyond just one person.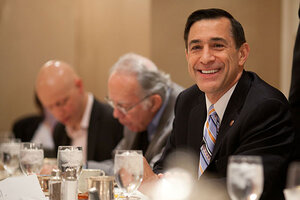 Michael Bonfigli/ The Christian Science Monitor.
House Oversight and Government Reform Committee Chairman Darrell Issa says he is not ready – yet – to join the chorus of Republican House members calling for the resignation of Attorney General Eric Holder because of the failed gun-walking operation called "Fast and Furious."
Representative Issa, whose committee is investigating Fast and Furious, spoke at a Monitor-hosted breakfast for reporters on Friday and gave several reasons for not calling for Mr. Holder's resignation.
The first reason Issa cited was, "We haven't reached all the conclusions that are appropriate in an investigation." Issa also said he wanted to proceed cautiously given his panels "long reputation of jumping to the end result." More importantly, Issa argued that the problems evident in the failed weapons operation go beyond problems caused by a single person.
"The fact is it is not about any one person. It is not about Eric Holder, it is not about [Assistant Attorney General] Lanny Breuer," whose office signed off on the wiretaps for the operation, Issa said.
Instead, "it is about a failure that seems to be pervasive within [the Department of] Justice that investigations play fast and loose with the expectations of what is right or wrong when it comes to ... collateral damage. This isn't the first time the FBI and other agencies have been involved in investigations in which bad people are allowed to continue doing bad things in the name of going after bad people," Issa said.
According to the conservative website Daily Caller, some 52 members of the House and three Republican presidential candidates (Michele Bachmann, Rick Perry, and Jon Huntsman) have called on Holder to resign.
---