Wisconsin Gov. Scott Walker finds lessons in recall fight
Wisconsin Republican Scott Walker reflects on surviving a historic recall election and warns that Mitt Romney shouldn't assume that he'll automatically get Republican voters' support in the Badger State.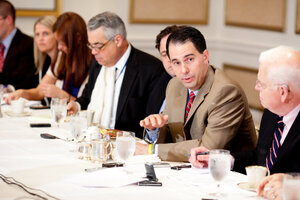 Michael Bonfigli/The Christian Science Monitor
Earlier this month, Wisconsin Gov. Scott Walker (R) became the first US governor to keep his seat in a recall election. The battle was triggered by Governor Walker's efforts to restrict public workers' collective bargaining rights, and his victory has made him a star in Republican circles. He was the guest at the June 14 Monitor breakfast in Washington.
The implications of his recall victory despite major spending by labor unions:
"I have read a lot of commentaries on our victory that I think overstate it in either direction. There are people who overstate it on the left who say this has no impact, or it was all about money, and I think that's completely wrong.... There are people on the right who think that this means that every Republican is going to win and that you can apply it in every state and every jurisdiction.... The truth is somewhere in between."
What the recall victory means for public unions:
"We open the door, not just in elections but more importantly for both state and local government leaders to say ... maybe we can consider making some of these sorts of changes and realize if we do, the groups that before everybody thought were going to take you out didn't do it.… [T]he kind of bullying tactics that were used before just aren't going to work because people realize you can stand up."
What he would do differently after the recall experience:
"My problem, I was so eager to fix [the state's budget woes], I fixed [rather] than talked about it…. [M]ost politicians talk about it and never fix it. In the future, what I have learned is I am going to do both."
---