Club for Growth president: Mitt's business credentials present challenges
Chris Chocola, president of the Club for Growth, sympathizes with the challenges Romney faces as a business executive running for office, but doesn't know how he will serve as president.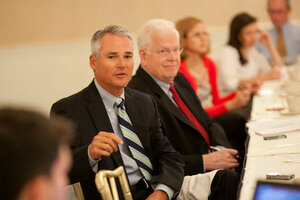 Michael Bonfigli/The Christian Science Monitor
Club for Growth, the limited-government, free-enterprise advocacy group, focuses its spending on Republican primaries. It helped defeat moderate Sen. Richard Lugar (R) of Indiana and played a key role in Ted Cruz's come-from-behind win in the Senate primary in Texas. Chris Chocola, the group's president and a former congressman from Indiana, was the guest at the Sept. 20 Monitor breakfast.
His expectations for a potential Mitt Romney presidency:
"They are uncertain. That is the thing. We don't really know. Again, that is the knock against Romney, [it] is you don't really know how he will serve.... And so our expectations are uncertainty."
The challenges faced by business executives, like Mr. Romney and Chocola, when they run for public office:
---