With the Golden Globes called off, Hollywood assesses the damages
The awards ceremony is a major casualty of the 10-week-long screenwriters' strike.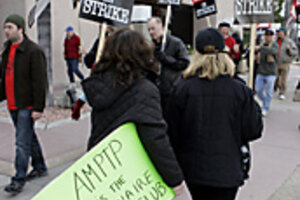 DaMian Dovarganes/ap
The manicurists, mud facialists, and hairstylists at Frederick Fekkai Salon on Rodeo Drive will be home for the first time ever on Golden Globe Sunday. Joining them in an unexpected day off on Jan. 13 are enough limo drivers, party caterers, gown designers, bling-jewelry renters, and other ancillary workers to account for about $80 million in lost revenue to the Los Angeles economy.
Cancellation of the Golden Globe Awards due to the Hollywood writers' strike will also be a financial blow for NBC, which had planned to broadcast the ceremony, and for the sponsor of the first-of-the-season awards show for the film industry. NBC will return as much as $20 million to advertisers who had purchased commercial time on the show, while the sponsoring Hollywood Foreign Press Association could lose roughly $5 million for its operating expenses, say analysts.
If the writers' strike lasts long enough to force the Academy Awards off the air on Feb. 24, they warn, the financial toll will rise considerably. The Golden Globes were canceled this week, to be replaced by a one-hour press conference Jan. 14 in which the winners will be announced, because celebrities will not cross picket lines to accept their awards in the traditional way.
Though severe, the financial setback is not the only casualty of the 10-week standoff between screenwriters and film studios. Less tangible but still important is the loss of a national "gather 'round the electronic hearth" moment that these awards shows can provide, say social scientists. Despite their self-congratulatory and self-promotional nature, the programs can spotlight top-quality but unsung movies and TV programs and help set the bar higher for the viewing public.
---