A legless artist documents the world in 32,000 stares
Tired of gawkers, Kevin Connolly traveled by skateboard, capturing their sheer human curiosity.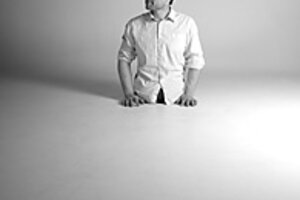 Chris Toalson
A 3-foot-1-inch tall man with no legs propelling himself along by his hands on a skateboard tends to warrant a fair share of attention.
People stare.
Sometimes they ask questions. Sometimes they make up stories on their own.
Montana State University film student Kevin Connolly relates a story: In a Bozeman grocery store, a young girl the same height as him asked, "Why are you on a skateboard?" Mr. Connolly replied, "Because I have no legs."
"She just stared at me and had the best question I've ever gotten," he says. "'Is it a trick?'"
Connolly assures that it is no trick. He was born without legs.
While the contrast between his own experience and how people see him can make him angry and frustrated, Connolly is sympathetic to people's curiosity; after all, he's a curious person himself. When someone stares, he wants to know why. Finding the answer has become a personal quest.
As a toddler he didn't immediately grasp that he was any different from his sisters or anyone else. When he was older, his parents enrolled him in gymnastics and wrestling, which strengthened his upper body and gave him the ability to flip up onto counters and do handstands. At age 10, he started skiing, using a monoski specially designed for someone like him.
Estela Allen, a photojournalist who has worked with Connolly since he was in junior high, first spotted him aggressively racing down a ski hill. "He has amazing agility, and amazing strength," she says, crediting Connolly's parents for the sense of self and the confidence he gained by getting involved with his body.
Connolly rarely uses his wheelchair, preferring his skateboard. And a pair of jeans-clad prosthetic legs stand in his apartment as a party novelty, unused since age 12.
"People are wanting effectively to put you in stilts," he says. "Why?"
---