Motorcycle ministry: A 'biker church' in Texas draws a devoted flock
Dennis King preaches in a converted blues bar to motorcycle riders and others who like his brand of everyone-is-welcome worship.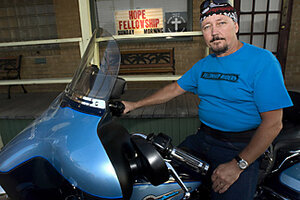 carmen k. sisson
It doesn't look like a church. At the moment, it doesn't even sound like a church. The Pigeon Hole used to be a bar, and for all some people here know, it still is.
Motorcycles clog the sidewalk outside, engines idling. Children play tag while burly, tattooed men sit on the front porch, trading stories. If you poke your head inside and peer into the dark recesses, you may still be confused. Chinese lanterns strung from the ceiling cast a soft glow on card tables below. Mothers dole Cheerios to chubby-fisted toddlers. Adults buy soft drinks from "Moose," a man with Samson biceps.
But looks can be deceiving, and stereotypes don't fly too well at the Hope Fellowship Church, anyway. In fact, it's that one quality – an inclusive, nonthreatening atmosphere – that draws more than 200 people here each Sunday to worship, eschewing the megachurches so prominent throughout the Dallas area for what they say is a deeper, more spiritual connection.
Biker churches have become so popular in recent years they're almost mainstream, but if you discount this ragtag assortment as just another symbol of a growing trend, you'd be wrong again. Most attendees have never sat on a bike, and the Rev. Dennis King, who does glide into the parking lot on a Harley, once wore a suit and tie to church every Sunday, preaching from the pulpit of a fundamentalist Baptist church.
Still, Pastor King admits, some stereotypes are true. Many of his parishioners have served time. Almost all – King included – have a background of hard drinking and hard living. But those are the very people who need to be in church, he says. It's not for the saints, it's for the sinners.
•••
King was on a rocky road until he met his wife, Cindy. He started riding motorcycles when he was 10 and started drinking at 18. For a while, she lived the life with him, but when they had two children, it lost its appeal for her. She wanted to go to church and get right with God, but he told her to go alone.
---