In US, historical revision challenges memorials to South's heroes
Recent moves seek to modify statues and plaques to reflect racist past.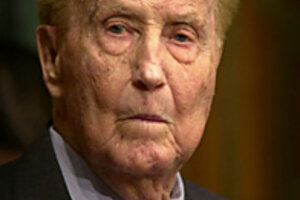 Andy Nelson/staff
From Columbia, S.C., to Frederick, Md., and even in America's capital, politicians and activists are attempting to make historical symbols express a more nuanced understanding of the past, in efforts that include amending the plaques, statues, and memorials of historical figures to reflect their racist sentiments.
Following the raucous Confederate flag debates of the early 2000s, and the more recent attempts to remove Confederate icons from campuses in North Carolina and Texas, the newer practice of footnoting statues, experts say, is an expression of black political power, especially in the South. But historians are divided on whether the practice provides a necessary context to memorials or threatens to turn historical interpretation into a politically driven free-for-all.
"It's a case of people trying to understand the past through contemporary eyes," says one rewrite man, Mark Hudson, a Frederick County historian asked to footnote a bust of controversial Supreme Court Justice Roger Taney.
"My fear with some of these things ... [is that] pretty soon, our history will be something that makes nobody feel uncomfortable, but is it accurate and meaningful?"
A number of rewrite efforts are under way:
---