Spurred by Carter, some Baptists meet to build bigger tent.
Some 20,000 are expected in Atlanta this week to show that they can work together despite political and religious divisions.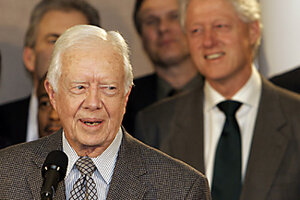 AP/File
Jimmy Carter has taught the gospel of Christ in Baptist Sunday Schools for 60 years – even while governor of Georgia and many times during his presidency. But in his travels, he has encountered a less flattering view of his religion.
"Not only young people in America, but in the many countries where Rosalynn and I have worked, when you mention Christianity, the first thought that comes to people's minds is dissension and divisiveness," says former President Carter in an interview. "Not between Baptists and Methodists, but among Baptists, among Anglicans, among Methodists."
To spark a new era of cooperation, he and other prominent Baptists have called a three-day meeting in Atlanta, which begins Wednesday. Some 20,000 people will gather to form a New Baptist Covenant and demonstrate that Baptists with theological differences can work together on the basis of Jesus' teachings. Organizers insist that they're not creating a new denomination or making a political statement (although some conservatives have said the aim is to boost Democrats in an election year). With blacks joining whites and Latinos, many Baptists see it as a historic moment.
---