Marry Your Baby Daddy Day: Activist marries unwed parents
Maryann Reid holds mass weddings for black couples who have children.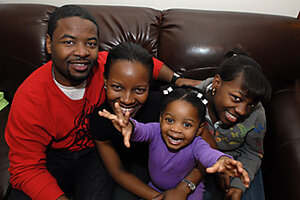 Mary Knox Merrill - staff
Maryann Reid's "dream board" is propped on a plastic lawn chair in her living room in Brooklyn. Magazine clippings cover the entire poster board: a drawing of a pile of books, a photo of a Range Rover, the phrase "Gucci shoes click-clacking."
"These are all the things I want in my life," says Ms. Reid, who writes romance novels of the single-girl-in-the-city variety for black women. "I believe you attract what you focus on."
Prominent among the clippings are an engagement ring, a wedding dress. and a happy couple (rapper Jay-Z and singer Beyoncé).
Reid, 31 and single, dreams of wedding bells. But not just for herself. She wishes they jangled more for her peers in the African-American community, where the marriage rate is 36 percent and 70 percent of children are born out of wedlock.
Statistics like these are what convinced Reid to take matters into her own hands: She has christened Sept. 27 "Marry Your Baby Daddy Day." An act of grass-roots social engineering, her effort to wed unmarried black couples who have children echoes efforts – by government, churches, and social welfare groups – to strengthen the institution of marriage.
---