Rabbi Harold Schulweis rallies help for the oppressed abroad
He has inspired thousands to take action against inhumanity in the 3-1/2 years since founding Jewish World Watch.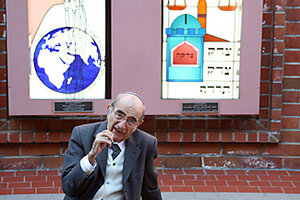 Daniel B. Wood
In eastern Chad, 14,000 children in the Oure Cassoni refugee camp this month will receive backpacks filled with shoes, school supplies, soap, and mosquito nets.
Hundreds of miles south, in the Iridimi camp that is home to Sudanese refugees, 15,000 solar cookers help prevent the incidence of rape among women who venture out to collect wood for cooking.
And three small radio stations in rural Chadian villages air "She Speaks, She Listens," a weekly broadcast discussing problems of gender-based violence.
All three initiatives grew out of an organization founded by Rabbi Harold Schulweis in southern California, called Jewish World Watch (JWW).
As of this month, the group has sent $3 million in aid to the nearly 230,000 refugees fleeing violence at the hands of the janjaweed militias in Darfur. The organization Schulweis founded almost four years ago now boasts 250,000 members (belonging to 56 Jewish synagogues in southern California that have joined JWW) – and is supported coast to coast by churches; university groups; and civic, professional, and grass-roots organizations.
Schulweis, rabbi at Valley Beth Shalom Synagogue in Encino, Calif., was already one of the best-known pulpit rabbis in America and the author of many books when, in 2004, he challenged his own congregation to stop merely observing acts of global inhumanity – Darfur, Rwanda, Srebrenica – and instead to rise up, speak out, and deliver immediate, practical care.
---