One Alabama weatherman's crusade to improve tornado safety
On-air, meteorologist James Spann dispenses vital information about the weather. Off-air, he holds frequent seminars to educate the public about storms.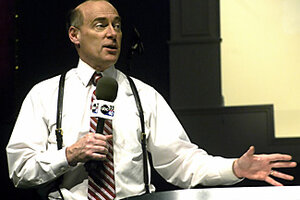 Carmen K. Sisson
He's won an Emmy and dozens of other awards, but for many people in central Alabama, he's just "James," the meteorologist they trust when severe weather strikes. They clamor to meet him. They make jokes: He's great with tornadoes, but not so good with snow. A storm comes and there's James, interrupting your favorite program. He starts off wearing a suit and tie, but when he rolls up his sleeves, people know it's serious: They run for cover.
After 29 years as a meteorologist in a state that's no stranger to severe weather, James Spann takes his role seriously, especially this year. Alabama had 24 tornadoes in February alone, surpassing the yearly average.
In the limited toolbox mankind has to protect against tornadoes, national forecasts help. So do local sirens and weather radios, which send out warnings from the National Oceanic and Atmospheric Administration (NOAA). But, by most accounts, a good local weatherman can do a lot to prevent calamity, too, and Mr. Spann is considered one of the best at what he does.
For one thing, he is always at the station, ABC 33/40, which serves 23 counties in central Alabama, during a storm. While some stations provide similar coverage, many just break in with periodic reports, or run a scroll updating local forecasts. But Spann provides up-to-the-minute street-level warnings honed by what national broadcasters can't offer – several decades learning every crook in Alabama's back roads.
---