Anonymous activists gaining strength online
Using the Internet to hide, groups like Anonymous spread sensitive materials.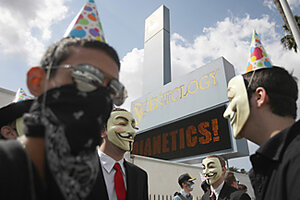 Chris Weeks/AP
Masked protesters led small, peaceful rallies in cities around the world Saturday as part of a protest by an online movement calling itself Anonymous. The organization declared "war" on the Church of Scientology in January because of the church's "suppression of dissent" on the Internet.
Some tactics employed by Anonymous have proved controversial, including attacks against Scientology websites and unauthorized circulation of church materials. The church also accuses the movement of mailing fake anthrax letters and making bomb threats – charges rejected on Anonymous websites.
"I don't know who sent [the threats], but the point is that whoever are the ringleaders [of Anonymous], they are creating these emotions and are causing this to occur, and they have to be responsible for it," says Karin Pouw, spokeswoman for the Church of Scientology.
The church has a history of aggressive litigation, but this time it's up against a new type of Internet phenomenon that's evolved to evade court orders and censorship measures. Clever use of technology is allowing new activist groups like Anonymous and the whistle-blower website Wikileaks to agitate without a centralized leadership and an identifiable membership.
These tactics of anonymous activism have given a new voice to dissidents living under authoritarian regimes in Burma (Myanmar) and China. But similar methods are now challenging the legal systems of democratic governments as well, upsetting the ability of judges to balance freedom of speech against competing claims of privacy and public safety, argue some experts.
---