All-male, plus-size cheerleading squad set to debut for Florida Marlins
The baseball team sees the 'Manatees' as a way to bring back fans. The men find it liberating – 'I'm just a big ham having fun,' says one.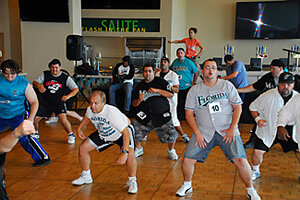 Robert vignon/florida marlins/ap
Joseph the Manatee is ordinarily a slow mover, on account of his ample girth. He has some vigorous activity ahead of him, though, and has been out foraging for food, anxious to fortify himself.
Others are gathering around, issuing noises of greeting and nodding in envy as he grazes his snack. Some wrinkle their noses to take in the smell, some wiggle their whiskers. A rare breed with a gentle demeanor, there is something in the way they move that their handlers are sure will endear them to the crowds.
As their trainer arrives, ready to put them through their paces, Joseph finishes off the last few morsels. "Ready for action," he declares, licking the last traces of ketchup and fries from his lips and crumpling the empty McDonald's bag. For 300-pound Joseph is no manatee, but a Manatee – one of an all-male, plus-size, cheerleading squad for Florida's baseball team, the Marlins.
"We're among the biggest fans in south Florida. And I mean that literally," jokes Joseph Love, as he and his teammates make their way to an upstairs room at Shula's Athletic Club, a private gym in Miami Lakes, Fla., owned by another of the state's sporting giants, Don Shula.
It is here that the Manatees – named after the plump marine creatures also known as sea cows – have been rehearsing twice weekly for the past five weeks to work on their routines, ready for tonight's season opener against the New York Mets at Miami's Dolphin Stadium. After that, they will perform at every home game on Friday and Saturday evenings.
---