Olympic torch protests chagrin many Chinese-Americans
In San Francisco's Chinatown, support for the torch relay Wednesday has more to do with cultural pride than political concerns.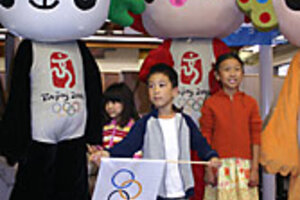 Ben Arnoldy
Betty Yuan left Taiwan for San Francisco in 1981, when mainland China was just beginning to open its economy.
Now, a booming China is hosting the 2008 Olympics and is sending the Olympic torch to San Francisco. To celebrate, Ms Yuan will be helping deploy costumed performers, tai chi practitioners, and children's artwork along Wednesday's torch route.
But she is upset about the demonstrations planned by thousands of Tibetans, Burmese, Falun Gong believers, and others to protest China's human rights record.
"We are disappointed that some politicians and interest groups are threatening to stage protests and ruin the Games, for the sake of bad-mouthing and insulting China," she said in a statement in Chinese she released as head of the Northern California Chinese Culture-Athletic Federation.
For decades, the Chinese community in San Francisco has been broadly divided between mainlanders and the numerically smaller but more prosperous and influential Taiwanese, who are traditionally critical of the Communist regime in Beijing. Yet, many Chinese-Americans including Taiwanese like Yuan support the Games and denounce the human rights protests reflects the power of ethnic pride over politics – but also a shift in the diaspora's attitude toward Beijing in recent years.
---