Baltimore tries to heal wounds from riots – 40 years later
Through dance, drama, and candid conversations, city residents erase lingering marks of the social chaos that erupted after Martin Luther King Jr.'s death in April 1968.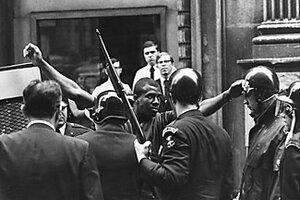 ap/file
Robert Birt's contribution toward healing his native city was to draw stick-figure people, orange flames, and a military tank onto a ceramic tile. It was his way of expressing a painful civic memory and it was long overdue.
For 40 years, the violent civil disturbances that erupted in this city following the assassination of Martin Luther King Jr. have been a taboo subject. In a feat of willful community amnesia, the citizens of Baltimore have tried to erase the events of early April 1968 – when grief, anger, and frustration exploded into looting, arson, and street violence – devastating neighborhoods and rending the city along racial lines.
Families didn't talk about it, teachers didn't plan civic lessons around it, and policymakers didn't draw valuable examples from it. And two generations of Baltimoreans have grown up with no idea it ever happened.
Yet the scars from that time are still evident, and entire swaths of the city have still not recovered. Baltimore's present-day woes may be laid bare for all to see on television dramas like "The Wire," but the city's real-life, four-decade-old wound has never properly healed.
Mr. Birt's memory tile, and the process of creating it, is part of that mending. His tile is part of the Baltimore '68 Mosaic Monument, an artistic collaboration that will be installed in the center of the city, honoring the many private stories that combine to form a complex public narrative. And the mosaic monument is part of a broader effort to get Baltimoreans to wrestle with the racial, political, and economic issues that fomented the unrest and still haunt the city today. "The conditions that provoked the rebellion of '68 are ones that, sadly, largely remain," says Birt, a soft-spoken educator who was 15 at the time of the riots.
---