Back-to-basics biking movement takes hold in cities
'Fixie' riders, seeking adventure, dart through streets with bravura and no brakes.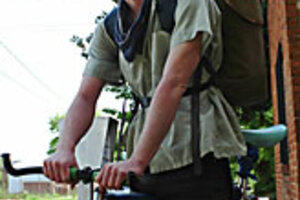 patrik jonsson
John "2Tone" Woodroof rides his bike the way an intrepid sea captain rides a storm: always moving, eyes peeled to the horizon. Zipping around Atlanta's mean streets, Mr. Woodroof is the epitome of two-wheeled bravura.
He and his comrades match a punk rock aesthetic with a bike courier twist: Their essential fashion statement being scuffed Vans sneakers and leg-hugging jeans, a practical chain-avoiding attire that gives them the profile of asphalt-sailing buccaneers.
But the most impressive piece of Woodroof's outfit is his bicycle: A stripped-down race bike with no brakes and a single-speed, fixed-gear rear hub that, in effect, turns man into a cog of the machine. This is biking at its most primal – no stopping, no coasting with the pedals stationary, no helmets. It's a ride built on adrenaline and danger, like walking across a lava flow in flip flops.
"All you need is air in the tires and a chain that works," says Woodroof, who co-owns No Brakes, one of the only bike shops devoted solely to so-called "fixie" bikes in the Southeast. "It's about simplicity."
In some of the toughest traffic in the country – New York, Atlanta, Chicago, Los Angeles – recreational bikers are stripping down their Schwinns and Cannondales and going back to the original setup that can be seen in pictures from the first Tour de France. Put another way, they're riding bikes torn from the velodrome and plunked down in the urban jungle. The fixed-gear movement is, in fact, influenced by track racing, especially a Japanese version called "keirin."
---