A sound artist hears symphonies in ambient noise
Bruce Odland finds meaning in life's aural flotsam and jetsam – and it's too valuable to tune out completely with iPod or radio or daydream.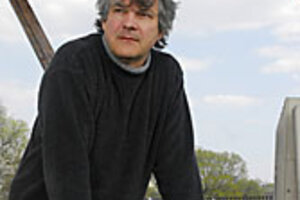 Mark Thomson
Bruce Odland is an artist whose medium is sound. Amid a culture dominated by the eyes, he's pleading with us to open our ears.
He's not a musician in the traditional sense, though his tousled hair and dramatic gestures suggest a certain stage presence. He's a master of the sea of natural and man-made sound – the aural flotsam and jetsam that most of us scarcely pay attention to. The roar of jets, the screech of brakes, the whoosh of wind between two buildings: We may block them out with iPods or the radio or our daydreams, background noises heard yet not registered, and we might even consider this ignorance to be bliss.
But that kind of bliss has a price, suggests Mr. Odland, whose otherworldly sensibility builds mental constructs out of every sound.
"What would it be like if we paid attention to the sounds that we make as a culture?" he muses. "We spend all our time shutting it out because, frankly, our soundscape is a total accident – it's very harsh and very unfriendly to humans."
The longtime composer and "sonic thinker" wants people to question their audible world – and perhaps even enjoy some of those accidental sounds transformed into a type of music.
The unintentional noises – the motors, ventilators, disc drives – have meaning, he says. But to absorb that meaning, we have to learn again to listen.
• • •
The first step: Close your eyes.
That's what Odland has people do in "ear yoga" workshops – exercises to help "shake off the tension of everyday hyperaccelerated consumer life." He wants them to get in touch with their inner hunter-gatherers – to replace the modern survival skill of blocking noise with a reawakened sensitivity to sound.
He has people make an identifying sound – a chirp or a chuckle, for instance – and then form a circle in the room, using only their ears. They are amazed at how precisely they can do this without bumping into each other, he says.
---