How a group of California teens won a national science bowl
The team from Santa Monica High School – a band of savants in the land of surfers – went through a grueling yearlong quiz class.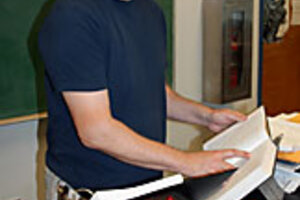 Frank Kosa
Ingo Gaida's classroom at Santa Monica High School is striking on two counts: First, for a biology class, it is remarkably devoid of life-forms, with the sole exception of a pint-sized goldfish named "Beast 6." Second, the air is filled with the drone of constant questions – imagine Gregorian monks chanting in a quiz show cadence – and the rapid-fire response by eight students all clutching their pedagogical tool of choice: a buzzer.
And the questions are hard, really hard, although the students respond with fiber-optic quickness, usually well before the query is half uttered.
At this point, a realization is in order: The interrogator and these eight students are the life-form in this room. They comprise a cauldron of intellectual fervor – like one of those superheated sea vents occasionally discovered in the dark reaches of the ocean where creatures grow to unheard of lengths and live on minerals believed too rich to sustain life – the chemistry, biology, and ichthyology which these students could tell you about in considerable detail.
This is "Aca-deca," short for the Academic Decathlon class. Here, 30 of the best and brightest high school students in this California beach community prepare for national quiz competitions. Part crucible and part gauntlet, this is where the student teams are formed, tested, and toughened. It's the equivalent of intellectual "two-a-days."
---