More blacks explore Judaism
Conversions to Judaism among African-Americans are growing in a way that could affect the presidential election.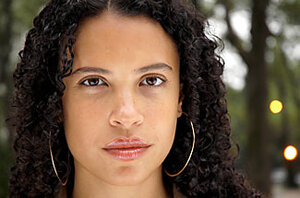 Courtesy of Lacey Schwartz
Like many of the growing numbers of Protestant blacks in America and Africa converting to Judaism, Elisheva Chaim grew up believing she had a "Jewish soul."
As a black woman and a Baptist in the South, that was a peculiar, somewhat troubling realization. But when she turned her doubts about Christianity into a search for answers, the truth became evident: She had to go deeper than the Old Testament. She had to convert.
"It's odd to see black people convert to Judaism, and even Jewish people look at me strangely, I'm not going to lie," says Ms. Chaim "But once everybody sees that I can recite the prayers in Hebrew, their attitudes change."
Though primarily an intensely personal journey, the black conversion movement comes at an important time for Afro-Judaic relations in the US.
Sen. Barack Obama is lighting up connections to the black-Jewish alliance of the 1960s while at the same time trying to calm Jewish fears over his Muslim middle name and ties to pro-Palestinian activists. This could have critical implications in key states with large Jewish populations such as Florida and Pennsylvania.
Yet more than anything, experts say, black exploration of Judaism is part of an increasingly complex faith puzzle in America. Among other things, it's testing a growing interest among some Jews in expanding a religion that doesn't proselytize.
"We're in a kind of make-your-own-faith world now, and the fact that blacks may be moving to Judaism is actually less surprising than it might otherwise appear," says Bruce Feiler, author of "Walking the Bible."
---