Tourism rises globally, but not to U.S.
With a weak dollar, America is a great buy for foreigners, yet visits are falling.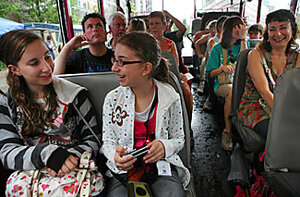 Melanie Stetson Freeman – Staff
A recent headline in The Guardian of London – "America – more hassle than it's worth?" – underscores a stubborn global view that the United States is not an easy or a desirable place to visit.
It's a perception reflected in the numbers. The world's long-haul international travelers have jumped by 35 million since 2000, yet America has been largely overlooked by those new travelers, despite favorable exchange rates resulting from a weak dollar and attractions like Disney World and the Grand Canyon. In fact, the annual number of foreign visitors to the US is about 2 million lower than in 2000, leading travel-industry experts to figure that from 2000 to 2007, the US economy took a hit of about $150 billion.
This all comes at a time when the economy could use a little boost from free-spending foreigners.
With the economy anchored as voters' top concern for the fall elections, Congress is taking notice of the foreign-traveler deficit, considering ways to better communicate US entry requirements and to develop a "See America" promotional campaign. But even with that, it could be years before America's welcome recovers its lost luster, say travel experts.
---