Wealthy women give to women
Helen LaKelly Hunt of Women Moving Millions aspires to raise $150 million by next spring.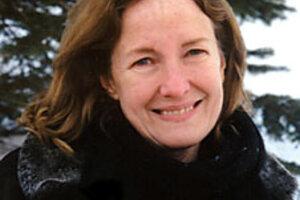 Courtesy of Helen LaKelly Hunt
Though raised in a family gushing with Texas oil wealth, Helen LaKelly Hunt was never taught to manage her money. Money was part of the "man's realm."
A nursery rhyme she learned as a child describes it well, she says: "The King is in his counting house, counting out his money. The Queen is in the parlor, eating bread and honey."
It was only when she read about a group of California women pooling their money to create a women's fund that Ms. Hunt broke through the disconnect between herself and her net worth. That breakthrough has led to two decades of rewarding philanthropy and a place in the National Women's Hall of Fame.
Today, she's encouraging others to burst through that barrier with a new initiative – Women Moving Millions. The aim is to inspire high-net-worth women to write checks for $1 million or more to improve the lives of women and girls – and their communities – around the world.
"Our mothers didn't write million-dollar checks for women – this is a historical first," says Hunt, a mother of six. "It's shocking for any of us who have done it. One woman calls it her 'gulp moment.' "
The initiative comes at a propitious time. Women now own at least 40 percent of businesses in the United States, and 51 percent of all assets are held in the names of women.
Yet globally, women face tremendous challenges. They constitute 70 percent of those living on less than a dollar a day, 75 percent of refugees and the displaced, and 80 percent of those trafficked across borders for sexual or forced-labor purposes. In America, two-thirds of the poor are female.
---