Same-sex marriage before California Supreme Court
The court must rule in 90 days on the legality of Proposition 8, which bans same-sex marriage.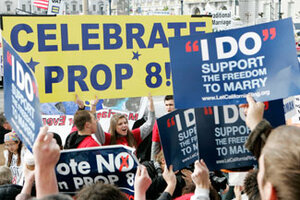 Marcio Jose Sanchez/AP
With bus loads of supporters and protesters watching a live video feed outside the court building in downtown San Francisco, the state Supreme Court heard Thursday oral arguments challenging the legality of Proposition 8, the ballot initiative that state voters approved last November banning same-sex marriage.
A central question the court faces is whether Proposition 8 amounts to a violation of human rights or falls within the limits of people's power to change the state's Constitution.
Other questions at stake: Does Proposition 8 constitute an amendment or a revision of the state Constitution (state legislature approval is required before significant revisions to the Constitution can go to the ballot)? And if the ballot measure stands, what would be the status of some 18,000 same-sex marriages already performed?
"The fundamental question that the court has to answer is just how far can the initiative process be used to change the California constitution and can it literally be used to take away any rights, no matter how fundamental," says David Cruz, professor of law at the University of Southern California (USC), Los Angeles, and a constitutional law expert.
The seven justices heard arguments in favor of overturning the measure from gay rights advocates as well as state attorney Jerry Brown's office, and from Pepperdine University Law School dean Kenneth Starr among others in favor of letting it stand.
---