Tennessee's 'Little Houdini' revives the outlaw legend
Supporters say Chris Gay is a modern Robin Hood. Lawmen call him "a little thief, a little con."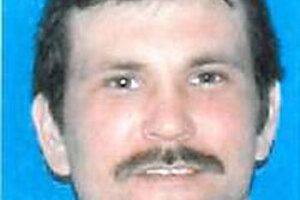 Courtesy of Cobb County, Ga.
Wearing a white T-shirt and blue jeans and sporting a compact moustache, Chris Gay, fully shackled in the back seat of a sheriff's cruiser, stayed mostly quiet as his home state of Tennessee – and the likelihood of a long prison sentence – drew ever nearer.
Coffee County, Tenn., Capt. Donnie Thomas didn't know the diminutive prisoner in the back was one of America's most notorious cons, a man one Tennessee police chief calls "the Cool Hand Luke of the 2000s." The deputy made it back to Tennessee. His prisoner didn't.
Mr. Gay's much-publicized prison-break in 2007 to reach his dying mama's side failed, but only after he led authorities on a five-state, five-day chase that ended with him being arrested driving the country singer Crystal Gayle's stolen tour bus in Florida. Now police around the flyspeck burgs of northern Tennessee are back on full alert after another audacious escape by Gay in Kennesaw, Ga., on Tuesday.
"How people portray him, he's an outlaw," says Michael Douglas, the police chief of Pleasant View, Tenn.
The details of Gay's Houdini-like escape – a wily thief up against a veteran small-town Tennessee deputy – is remarkable for its "Smokey & The Bear" allure at a time when outlaws are found mostly online.
---