End of the road for America's biker culture?
Fed up with growling tailpipes, one more city cracks down on the world's largest Harley rally.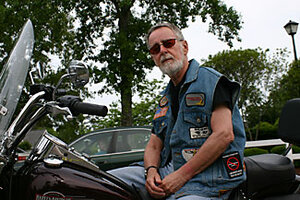 Patrik Jonsson/The Christian Science Monitor
As the women at the SBB biker bar here greet the six o'clock hour by jiggling to a blaring version of Kid Rock's take on "Sweet Home Alabama," Bob Johnston leans back, flips his flip-flops off, and ponders the state of America's biker culture.
The party inside the saloon notwithstanding, the news ain't good, he says.
Just up the road, Myrtle Beach, S.C. – the site for 68 years of the world's largest Harley-Davidson rally, drawing nearly half a million riders annually – has effectively tried to shut down the event this year. Inside the city limits, a local helmet law and a ban on noisy tailpipes is likely to keep most riders at bay.
As a scaled-down Bike Week begins this weekend outside the city limits, the question is whether Myrtle Beach has gone too far in cordoning itself off from the dinosaur growl of a straight pipe, an unshaven chin, and free-blowing hair.
For Harley riders like the prodigiously goateed Mr. Johnston, Myrtle Beach's crackdown is like Mecca kicking out its pilgrims – yet another blow to the independence of an outlaw "element" increasingly segregated from a squeamish American mainstream.
---