Tattoos remain a must-have accessory, even in recession
Tattoo parlors are seeing steady profits, as consumers shift spending toward purchases that are more meaningful.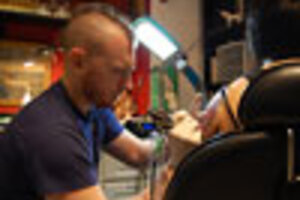 KATHRYN PERRY
Of all the luxuries Americans could give up in today's hard times, an $80 tattoo of a French quote from Albert Camus sure seems like a no-brainer.
Not to Natalie Kearns.
Despite having a full-time job at Boston's Huntington Theater Co., Ms. Kearns feels the pinch of recession. In fact, the recent college graduate is living with her parents to save money. But do without Camus? No way.
"It's a quote I've loved for a really long time," she says. "It's sort of a mantra."
Such dedication is paying off for parlors across America. At a time when luxury goods are struggling, tattoos appear to be, if not recession-proof, at least recession-resistant.
With no national association for the tattoo industry, national trends are difficult to gauge. But anecdotally, tattoo parlors across the US are reporting a steady – and sometimes dramatic – rise in profits. The retail tattoo outlet Tattoo Nation, for example, recently announced plans to open nine shopping center locations in major cities like New York and Los Angeles after sales at their New Jersey store increased by 30 percent last year – amid price increases.
Some 36 percent of 18- to 25-year-olds have a tattoo, according to a 2006 study by the Pew Research Center. The number climbs to 40 percent for 26- to 40-year-olds. The allure of tattoos is more apparent in times of recession, says Kit Yarrow, a business psychologist at Golden Gate University in San Francisco.
---