Boston Globe: A vote on the future of newspapers?
The Globe's largest union votes Monday on whether to accept a 10 percent pay cut, among other concessions. It points to the turmoil reshaping the industry.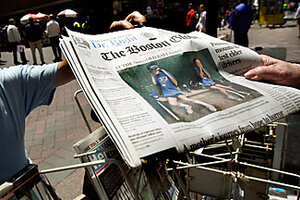 Elise Amendola/AP
In a high-stakes vote Monday, members of The Boston Globe's largest union are deciding whether to accept a 10 percent reduction in pay, cuts in benefits, and the loss of job security – or whether they'd rather live with the threat of management imposing a unilateral 23 percent wage cut.
The choice is emblematic of the challenges facing many news organizations across the US. They're coping with the recession at the same time that readers and advertisers are migrating to the Internet – where, fair or not, there's an expectation that what you read should be free.
The vote at the Globe is also complicated by resentment at what some employees call the "bullying tactics" of The New York Times Co., which bought the Globe in 1993. There's also some outright anger that, according to the union, management has not been asked to make comparable sacrifices. That's led some media analysts to conclude that union members will ultimately decide against management's offer, risking a more uncertain future.
But hovering over the debate is a larger question: Is there a future for a traditional, major metropolitan newspaper?
"Certainly, there's nobody in the union who thinks, 'OK, if we approve this deal, we make the sacrifices now, but we're guaranteeing our survival and there's smooth sailing,' " says Mark Jurkowitz, associate director of the Pew Research Center's Project for Excellence in Journalism in Washington. He's also a former ombudsman at the Globe. "What we're seeing here is that: 'Even if we accept this offer, what is the future of the paper?' That's the big unknown that's hovering over this."
---