Should L.A. pay $2 million to protect parade from 'knuckleheads'?
Rioting broke out after the Lakers won the NBA title Sunday. The city is guarding against a similar problems during Wednesday's victory parade.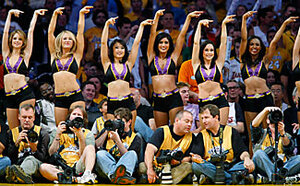 Mike Blake/Reuters
Anyone visiting the website of The Holy Grail sports shoe store, located at 604 West Pico here in Los Angeles, will be told: "Due to rioting, we are temporarily unable to process your orders. Thank you for understanding."
Sunday night, when the Los Angeles Lakers won their 10th NBA title, beating the Orlando Magic 99-86, the store was one of many that was looted during celebrations, with thieves taking some $100,000 worth of shoes, apparel, and computers.
Now, the victory parade is scheduled to take place Wednesday and The Holy Grail's decision to close reflects citywide concern about a potential repeat of Sunday night. For two days, heated debate has ensued over who should pay for the extra police and security – at an estimated cost of $2 million – needed for the parade.
"The city is not in a position to absorb the cost," says Jan Perry, councilwoman for the Ninth District, where the parade will take place.
California's $24 billion budget deficit has meant cities are being deprived of state funds. Many, including Los Angeles, are laying off city workers or mandating furloughs. In all, the city's budget deficit totals $529 million.
Councilwoman Perry pushed for the use of private funds for the parade. She announced yesterday that private donations will account for at least $900,000 of the final tab.
---