'Multiracial' identity gains acceptance
California considers expanding data on its state forms to allow for multiple answers under race.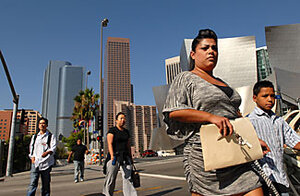 Mary Knox Merrill/ Staff/ File
Actress, comedienne, and producer Kim Wayans first decided to write stories about a fourth-grader called Amy Hodgepodge to provide her 38 multiracial nieces and nephews with a character they could relate to. Amy Hodgepodge is part Japanese, African-American, Korean, and Caucasian – but not too mixed up about it.
"If your mom is white and dad is black, you should be able to embrace that and not have it be a problem," says Ms. Wayans, who is African-American. None of her nieces or nephews are confused about their identity, she adds, but rather the confusion lies in a society that won't let them use the word "multiracial" to describe themselves.
"The point is Amy Hodgepodge is the new American. We are all mixed and getting more so."
Recent demographic trends in the US suggest that might indeed be true. Nationally, the number of Americans who identify themselves as belonging to more than one race has gone up by 33 percent since 2000 – the first time the option of checking more than one box for race was introduced in federal forms – making them the fastest-growing demographic in the US.
Though their numbers are still small – an estimated 5.2 million – their rapid growth suggests an increasing acceptance of multiracialism in a country with traditionally rigid racial categories. In some states, bans on interracial marriages were lifted less than 50 years ago – the last state to do so was Alabama in 2000, though the law hadn't been enforced in decades.
And the increased acceptance of multiracial backgrounds is reflected by – and perhaps even promoted by – changing survey and classification rules.
---