Jackson memorial: Unity the keynote
In a spectacle befitting the ultimate entertainer, friends and fans pay tribute to a man whose music touched millions worldwide.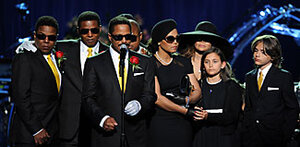 Gabriel Bouys/AP
In the end, the public memorial for the King of Pop was the pop-culture event of the decade.
It was, fittingly, a showbiz flourish for one of the most famous entertainers who ever lived – one that emphasized Jackson's achievements and his inspirational messages of global unity rather than the controversies that clung to the self-styled Peter Pan like a sewn-on shadow.
"The community of entertainment, as well as the world, came together," said Rezelle Ferguson, an Angeleno who attended the service with her husband. "Every different kind of field – politics, music, just regular people – came together and all acknowledged that Michael made a change in everybody's lives."
The service, held at the Staples Center in downtown Los Angeles, at times resembled a Hollywood awards ceremony, with celebrities each taking their turn at the podium. Behind the stage, a big screen offered doting montages of the many faces of Michael Jackson – from the cherub-faced child star with the Afro helmet to the icon who hid behind sunglasses, a flop of Geisha hair, and militaristic suits festooned with small galaxies of glitter.
But if the production was slick, it wasn't extravagant, and what lingered in the minds of those who attended were the moments that were unscripted. "At the end, where his family was on stage, and they were all giving a little speech, and you could see it was coming from the heart and the real tears and the real emotions – that whole moment, I will never forget," said Manya Mir of Los Angeles.
---