The Jay Leno Show and the rise of political humor
Jay Leno's new show debuts tonight and features a Washington-based political correspondent.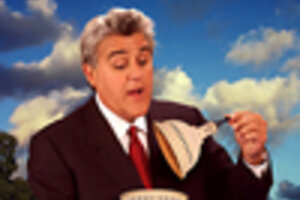 NBC/File
Robin Williams is killing. Bathed in a spotlight onstage at the TV industry's semi-annual showcase, the comic is keeping the packed ballroom rollicking with the stream-of-consciousness improv that has made him a cultural icon for several decades.
"It's sad. I mean 'W' is gone," he says of George W. Bush. "He was a gift to comedy.... Sarah carries on for him, though. 'Thank you Sarah.' I mean, how did they find her? 'Project Running Mate?' "
After a short film summing up Mr. Williams's contributions to American comedy since 1977, the affair turns to the serious matter of humor itself. "How would you say comedy in America has changed since you came on the scene 30 years ago?" comes a question from the back of the room.
"It's gotten more interesting," he says. "Politically, it's open season, man, thanks to Jon Stewart.... [T]here's so much to talk about every day."
Out of the mouth of one of America's top comedians comes the same assessment made by cultural anthropologists, historians, and academics who study humor. Comedy of all kinds is proliferating, from the genteel riffs of Ellen DeGeneres to the R-rated barbs of Chris Rock.
But after decades of life on the fringe, political satire – material riffed on and ripped from the news – is becoming the lingua franca of American humor. Topical humor is now the standard rather than exception – it is the sandbox for a new generation of performers in comedy clubs, for the punch-line potentates on cable TV, for the growing legion of late-night talk-show hosts.
---