With Elinor Ostrom, Oliver Williamson, US nearly sweeps Nobels
The two economists were awarded Nobel Prizes Monday. Eleven of the 13 Nobel Prizes went to Americans, but that's hardly an endorsement of the country's policies.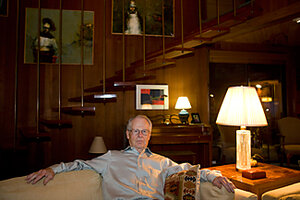 Kim White / Reuters
The 2009 Nobel Prizes were a great moment for America – or were they?
The last of the Nobel Prizes were awarded Monday to two American economists: Oliver Williamson and Elinor Ostrom (the first woman to win in the category).
In total, 11 of the 13 Nobel Prize winners this year are Americans.
But in some cases, the awards seem as much as rebuke of American policy – past or present – as praise for its citizens.
For their part, Drs. Ostrom and Williamson cast a critical eye on some of the free-market policies that have animated American economic policy and are blamed by many abroad for creating the global recession.
"It's hard to look at the research [by the two Nobel laureates] and not see some connection to concerns raised by the Great Recession," Phil Izzo writes on his Wall Street Journal Blog.
Each seeks to deconstruct one pillar of capitalism. Williamson looks into why corporations exist (to mitigate conflicts, he posits), while Ostrom questions whether privatization is really as necessary as some economists say it is. She says communal societies manage their resources just fine, thank you.
Similarly, some observers say US President Obama was awarded the Nobel Peace Prize, not for his vision, but for "not being George Bush."
The Norwegian committee that decides upon the peace prize insists that its prizes are not political. But Scott London, the co-author of a book on Nobel lectures, disagrees.
---