Terror arrests compel US Muslims to talk about their faith
Recent arrests in Chicago, as well as the shooting death of Detroit mosque leader, are forcing many US Muslims to explain how Islam is misunderstood.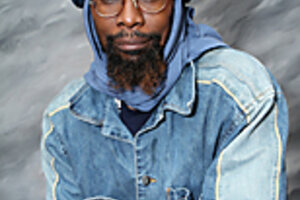 Ron Foster Sharif/ The Detroit News/ Muslim Alliance of North America/ AP
The shooting death of a Detroit mosque leader who authorities say advocated a separate Islamic state within the US is pointing up a reality for Muslims in America: Such incidents are forcing them to talk about their faith in public – more so than people in other US faith communities talk about their religion.
Luqman Ameen Abdullah was killed in a shootout Wednesday with FBI agents who sought to arrest him and 11 others on federal charges including illegal possession and sale of firearms. According to an affidavit from an FBI agent, Mr. Abdullah was "advocating and encouraging his followers to commit violent acts against the United States."
The incident follows two recent cases. Two men were arrested in Chicago this month, accused of helping to plan an attack on the offices of a Danish newspaper that published cartoons of the prophet Muhammed. And Najibullah Zazi, a Denver airport-shuttle driver, was charged last month with conspiring to detonate explosives.
Given the high-profile nature of a number of such incidents since 9/11, many Muslims feel compelled to explain their religion, some say.
---
Follow Stories Like This
Get the Monitor stories you care about delivered to your inbox.