Why can't US pig farmers profit from the pork revolution?
Beef and chicken sales are down, but pork sales are up 3.1 percent as Americans chomp 'pig wings' and turbaconducken. But overzealous breeding and a drop in international demand means farmers are losing $25 on each animal.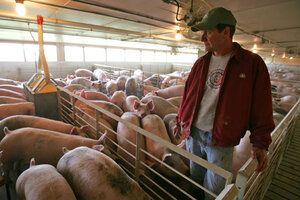 Jeremy Portje/Rapport Press/Newscom
Smoked pig ears, sliced and served like french fries with ketchup. Hog jowl sandwiches. Downmarket taco joints serving braised pork belly with freshly julienned slaw.
At the American kitchen and restaurant table, 2009 was the year of the pig – all of it, apparently. Shanks and jowls jostled with filet mignon for top billing on many top restaurant menus. Bacon made a comeback, even getting its own bacon news aggregator and finding its way into ice cream and candy. And home chefs – too cash-strapped to buy haddock and perhaps a bit tired of pan steaks – found inspiration in braised bellies and slow-roasted Boston butt.
But if "the other white meat" became the main meat this year, a paradoxical market challenge remains: Despite year over year growth of 3.1 percent as both chicken and beef sales fell off, US pork producers kept losing nearly $25 per animal. Myriad factors played into the troubles, such as a 16 percent drop in international sales (swine flu being one issue there), stubbornly high feed corn prices (due to ethanol), and – what else is new? – zealous investors who failed to see a looming downturn as they bred record numbers of sows in 2005 and 2006.
Pack up the pork parade
---