Jim Leavitt fired: Is the era of the coach-king over?
South Florida football coach Jim Leavitt, fired Friday for allegedly slapping a player at a November game, is the third coach to lose his job in six weeks over player mistreatment charges.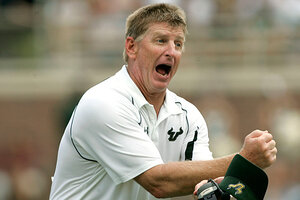 Phil Coale/AP/File
Everybody in the huddle: The era of the coach-king is over.
The firing Friday of South Florida coach Jim Leavitt over reports that he throttled and slapped a player makes three coaches in fewer than six weeks who have either quit or been fired for abusiveness in their quest to bring out the best in amateur athletes. University of Kansas coach Mark Mangino resigned in early December after allegations of physical and psychological mistreatment of players. Last week, Mike Leach, head coach of Texas Tech, was fired ostensibly for ordering a concussed player to sit in a darkened equipment garage.
The rapid-fire ousters of some of college football's most winning coaches have made college athletics the latest bellwether over the direction of American sports culture. Certainly, coaches are watched more closely than they ever have been, and players feel confident enough to speak out about perceived maltreatment, which was not necessarily true in the past. A coach's words and actions are subject to challenge – an improvement when it uncovers abusive coaches but a possible demerit when it come to a coach's ability to keep discipline among players.
---