Groundhog Day: five facts about Punxsutawney Phil
Punxsutawney Phil saw his shadow on Groundhog Day Tuesday, which means six more weeks of winter. Here are five things you might not know about this American tradition.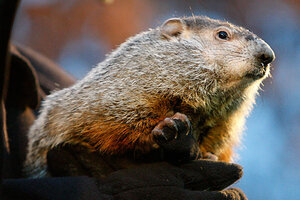 Gene J. Puskar / AP
Happy Groundhog Day!
Tuesday marks yet another dubious American holiday, complete with its own greeting cards. Like so many other holidays, Groundhog Day seems an unnecessary exercise in self-inflicted torture: We roust ourselves at the crack of dawn in the depths of winter so an overweight rodent from a peewee town in Pennsylvania can tell us we have to look forward to six more weeks of winter (Yes, Phil saw his shadow).
And then there's the poor rodent itself – yanked from cozy hibernation to satisfy a whim (no wonder New York's Staten Island Chuck bit Mayor Bloomberg's finger last year).
Regardless, we'll be celebrating Groundhog Day for many moons to come. So here's some Groundhog Day trivia with which to impress your friends:
• Punxsutawney Phil is immortal. Well, practically. According to folklore, the furry oracle was born in 1887, making him 123 years old. The average groundhog lives less than 10 years, making Phil a statistical anomaly … or not Phil (remember when Daddy came home from the vet with Harry the hamster, only Harry looked different?). Fans of Punxsutawney Phil insist a magical "elixir of life" keep Phil looking youthful.
• Phil's about as accurate as your average meteorologist. That is to say, not very. The US National Climatic Data Center estimates Phil's forecast is correct only about 40 percent of the time. (Perhaps he could find a job at the Weather Channel.)
---