Arizona illegal immigration bill: draconian or common sense?
A bill passed by the Arizona State Legislature takes aim at illegal immigration by directing police to look into the immigration status of anyone whom they have 'reasonable suspicion' to believe is in the country unlawfully.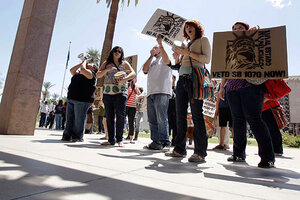 Ross D. Franklin/AP
Arizona lawmakers on Wednesday approved some of the toughest immigration legislation in the US, heightening debate on how far is too far to go to curb illegal immigration, and prompting renewed calls for federal immigration reform.
Arizona Senate Bill 1070, which passed the state House of Representatives Tuesday and is expected to be signed by Republican Gov. Jan Brewer, makes it a misdemeanor to lack proper immigration paperwork in Arizona and directs police to determine immigration status if they are suspicious of criminal activity. Currently, officers can inquire about a person's immigration status only if that person is a suspect in another crime.
Immigration reform groups see the approach as a logical expansion of state authority when, they say, the federal government is not doing its job. Immigrant rights groups call it far too severe, saying it would freeze any trust that exists between immigrant communities and local police departments, and could domino negatively to other states.
IN PICTURES: The US/Mexico border
"Arizona's decision to advance such a draconian and highly questionable piece of legislation reveals the moral crisis our nation is facing as we confront options on how to best deal with illegal immigration and the millions of families who live and work in our midst," said Angelica Salas of the Coalition for Humane Immigrant Rights of Los Angeles (CHIRLA), in a statement. She warns that, if passed into law, the bill would open the state to a raft of racial profiling and wrongful arrest lawsuits.
---